Graphic tees are unique and amazing but owning them can also be tough. They need extra care to stay in top notch condition. Here are a few tips on how to care for graphic tees.
How to Care For Graphic Tees
To keep your tee shirt for a long time, it is  important to care for it. There are certain ways to wash screen-printed shirts and maintain them. Read below for tips to keep in mind.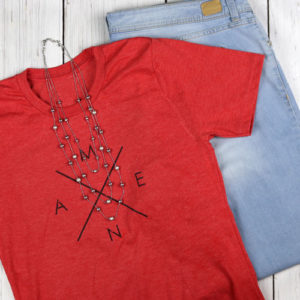 Safe Storage
Store your tees safely in a drawer to keep them from dust and debris. You can stack them vertically so you can see them and also have easy access to them.
Soda tabs can come in quite handy when it comes to saving closet space. By looping the tabs on one hanger, you can hang a second hanger in the tab's second hole. This allows you to hang another shirt and save plenty of closet space.
Fold Them Well
Rather than throwing your tees into a drawer, spare some time to fold them neatly and keep them in good shape. You only need a few seconds to fold your tees and it's totally worth it in the long run. When dealing with graphic tees, you want to fold them so the front design is facing up.
If you're a bit sloppy and your t-shirts end up on the floor or creased, spraying them with some water will work wonders to get rid of the wrinkles. Alternatively, hang the creased t-shirt on your shower rod or door while taking a hot shower.
Remove Armpit Stains
Whether you have graphic or plain t-shirts, it's important to remove those ugly yellow armpit stains. You can remove them with specialty products in the market.  If you want to prevent the stains in the first place, avoid antiperspirants with aluminum.
Unshrinking
If you accidentally shrink your t-shirt in your load of laundry, don't worry. You can unshrink it by soaking it in a mixture of hair conditioner and hot water for about five minutes before stretching it back to its right size.
Make It Unique
You can make your tee unique by upcycling it or cutting it up. However, be careful to preserve the design. There are plenty of online tutorials on how to change up your tee and give it a unique look.
Preserve the quality of your design and keep your tee in the best condition with the following handy tricks:
Wash the tee inside out to help preserve the graphic art

Prevent shrinkage by machine washing the tee on a gentle cycle with warm water

If you want your t-shirt to shrink after losing a few pounds, wash it in warm water

Air dry

your tee so it won't fade and avoid machine drying
Bottom Line
With these tips on how to care for graphic tees, you can forget about faded, shrunk and armpit-stained t-shirts. All you need is to dedicate some time and effort to care for your tee's and you'll have them looking as good as new for longer. The Good News Tee has easy to maintain graphic tees for people of all ages.